Creating multiple markers on Google Maps
Google and Bing maps have an interesting new feature – My Places. My places allows a person to create a custom Google map with multiple place marker locations. This feature is wonderfully useful for event planning, such as wedding ceremony – sharing map of wedding ceremony and reception with guests; or presenting all business locations for a franchise.
Here are 5 easy steps to Create multiple markers on Google Maps:
Step 1 – Preparation
Prepare all of the material you'll need. That would include a list of each location with phone#s, websites and pictures of the location. Upload pictures to the website and remember the path. I like to organize data in a text document. Here's an example.


Step 2 – Get the map started
Login into Google (maps.google.com)
Click on Create Map button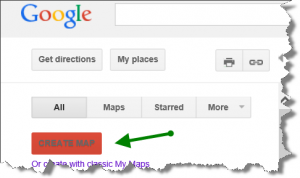 This will launch Google Maps Engine in a new window where you need to click on "Create a new map" button.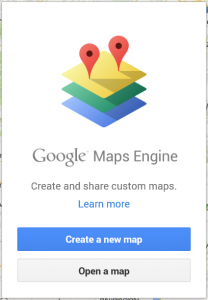 Once map is created by Google Maps Engine, it shows "untitled map". Position your cursor over the title and rename the map: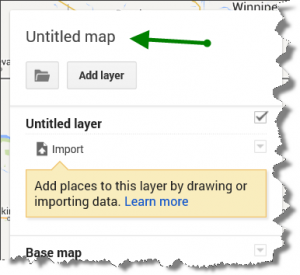 Provide a name and description with location. This will help people locating your business through map service.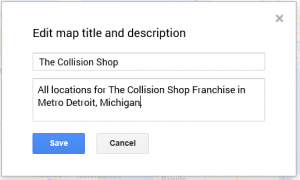 Step 3 – Add your locations
Paste your first location address and click on magnifying glass button to locate the place.

Click on the pin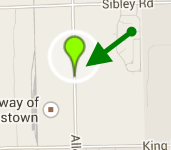 and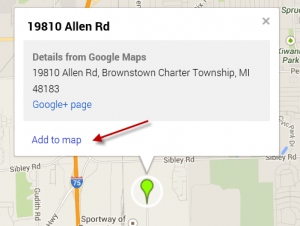 click on "Add to map" link
The marker will change color. Click again on the marker and this time click on "Edit" icon.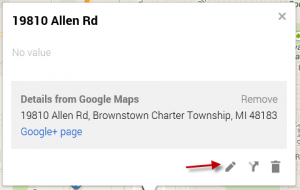 Type in the name of the location and provide details – phone# and internet address are really useful.
Paste the link to the location picture and click "Add" button and then click on "Save" button.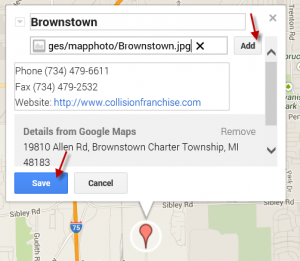 Note: if you forget to click on "Add" button, your image won't be added to the listing.
This is how the new listing looks like now.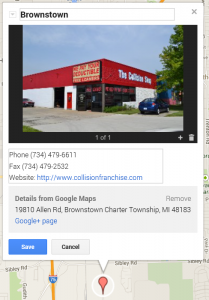 Step 4 – Customizing the map
Once all locations are added, you can change how they are presented on the map. Colors, icons and descriptions are all can be easily adjusted. Because this map is for the collision shop franchise, we've use a wrench icon. To change the icon, position mouse cursor over the listing until the paint bucket shows up; click on it and modify colors and shapes.
Step 5 – Share your map
Click on Share button in the upper right corner of the screen. Share the map button This will open up the sharing settings. Here you are provided with a link to share or include on your website as well with access settings.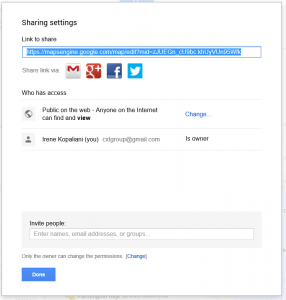 Three access options are available:
Public – anyone on the internet can see the map you've created
Access with a Link – anyone with a link can see the map
By permission only – people who you designate exclusively can see the map
By making your map public, your business will receive yet another free exposure on the internet and be promoted over your competition.